Clara Township is about as rural a community can be in Pennsylvania, with a population of 186 residents living in a cellular dead zone.
The drive to buy the local weekly newspaper involves traveling on roads covered with ice & snow much of the winter.
So after an oil & gas (O&G) well operator proposed converting an old well into an underground injection well to dispose of wastewater, news of the proposal began spreading at a snail's pace.
The full time population of the area is low. But because of Clara's proximity to high quality streams and thousands of publically accessible forested acres visited by hunters and anglers, the area has many camps & cabins occupied by part-time, seasonal residents.
Following routines that span generations for some, part time residents will begin returning to their rural cabins in the spring where some will learn for the first time about plans to situate storage tanks on the mountain above their favorite fly fishing hole or cabin.
They'll learn tanker trucks hauling waste too dirty for reuse or recycling will be discharging the waste into huge holding tanks where it will be staged, before injection into a depleted gas well.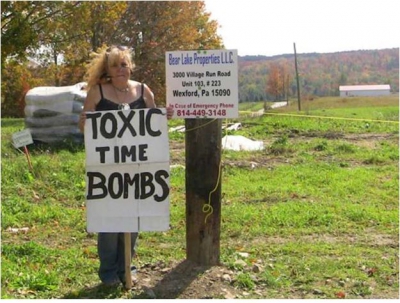 A similar scenario played out Bear Lake Borough, Warren County, PA in 2012 with a population of 193.
Seeking permits for injection wells in rural areas where there are relatively few residents, almost guarantees opposition to be small. Low population has made bucolic communities like Bear Lake and Clara sitting targets for operators looking for an easy path to wastewater storage tank and injection well permits.
And this is why the people in Clara need our support. Please take a few minutes of your time to send a comment to Kevin Rowsey, Source Water & UIC Section, U.S. EPA Region 3
Email: rowsey.kevin@epa.gov Subject line: PAS2D050BPOT
Comments will be accepted up until March 4th, 2021. For more info go to: http://savetheallegheny.org