ACTION ALERT CDAC MEETING MAY 25TH!
There will be a public comment period during the CDAC meeting.
CDAC is working on regulations governing VOC's, roadspreading of brine, well plugging and more!
https://dced.pa.gov/pa-grade-crude-development-advisory-council/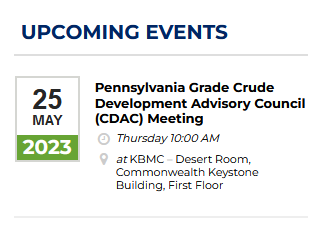 And if you call in advance they will put you on the agenda!
AND Don't forget to bring a recording device!
CDAC meeting organizers forgot to turn on the recorder during the last CDAC meeting until after the public comment period ended.